Your wedding venue tells the tale of your love story. On your big day, this space transforms into the magical backdrop for the first chapter of your lives together.
The venue you choose sets the stage—literally and emotionally—for celebrating your committed relationship. Consider the location thoughtfully, seeking a meaningful place that embodies the spirit of your partnership. Is there a neighborhood that nurtures your bond? Perhaps an enchanting garden where your love first bloomed?
Hand in hand with location, accessibility equally impacts your guests' experience. If loved ones are traveling to unite with you, be sure the venue is within reach.
Of course, budget brilliance plays a part in selecting your venue. Your floral partner will sprinkle beauty through flowers that elevate your space, whatever your financial story. Thoughtful florals will find ways to complement your venue within your means.
Aesthetic appeal is paramount. Your venue should harmonize with your floral vision, whether it's an explosion of vibrant hues or elegant ivory tones. Together, your floral designer will craft arrangements that feel like they naturally belong.
Finally, let your venue's amenities ensure comfort. With parking, lodging, catering, and more anticipating guests' needs, you're free to focus on the wonder of marrying your beloved.
Say your vows in a place that feels true to your hearts. Thoughtfully curated floral arrangements will infuse this space with love when you open an exciting new chapter.
1.   Location and Accessibility
The location of your wedding venue is paramount in setting the right tone for your big day. You want a place that resonates with your vision and is conveniently located for you and your guests. A centrally located venue ensures that your guests won't have to travel too far, making their journey to your wedding as smooth and stress-free as possible. This is especially important if you have out-of-town guests attending, as they might not be familiar with the area.
Transportation is another crucial factor to consider. Check if the venue is easily accessible by public transport and if there are ample parking spaces for guests who might be driving. This small yet significant detail can significantly impact your guests' experience and overall enjoyment of your event.
Accommodation options are also worth looking into, especially if you're planning a destination wedding or have many guests coming from out of town. Some venues might have on-site accommodation or partnerships with nearby hotels to provide discounted rates for your guests. These thoughtful considerations show your guests that you've considered their comfort and convenience, ensuring they have a memorable experience at your wedding.
2.   Wedding Theme and Aesthetics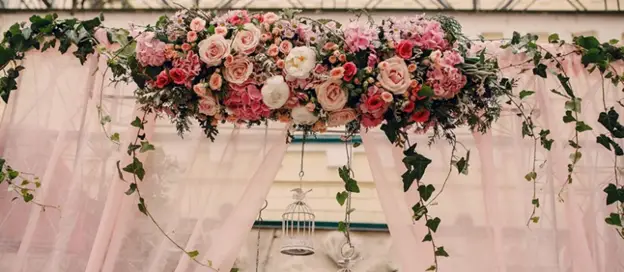 When choosing a wedding venue, it's crucial to consider how it will align with your wedding theme and aesthetics. The proper venue should serve as a complementary backdrop that enhances and brings your vision to life. Consider the style and mood you want to create: a romantic garden party, an elegant ballroom dance, or a rustic barn celebration.
Consider the colors, flowers, and other décors that will best suit your theme. The wedding flower arrangements, in particular, play a significant role in setting the tone and atmosphere of your celebration. Beautiful blooms can transform a space and tie together your wedding theme and color palette. When touring potential venues, envision where your flower arrangements will be placed to accentuate the venue's features. Think about how the venue's natural surroundings, architecture, or interior design will interact with your floral designs.
Additionally, consider the venue's lighting and how it will affect the overall aesthetic. The right lighting can highlight your wedding flower arrangements and other décor, creating a warm and inviting ambiance. It's also essential to ask the venue manager if there are any restrictions or limitations regarding decorations and flower arrangements. This information will help you make informed decisions about your wedding aesthetics and ensure your dream wedding becomes a reality.
3.   Budget Considerations
When planning a wedding, the budget is crucial in determining the venue options available to you. Establishing a clear and realistic budget early in the planning process is essential to narrow down your choices and avoid any unnecessary stress later on. Remember that the venue is typically one of the most significant expenses in a wedding, so it's vital to allocate the right amount of funds to secure a location that meets your needs and vision.
When considering your budget, it's also essential to know any hidden costs associated with the venue rental. These can include charges for cleaning, security, or overtime. Make sure to ask the venue manager for a detailed breakdown of the costs and what is included in the rental fee. Additionally, inquire about any additional charges for services such as catering, decoration, or lighting. Some venues may have preferred vendors or in-house services, which can impact your budget.
Lastly, don't forget to ask about the payment schedule and if there are any discounts available for booking on specific dates or times of the year. By being diligent and asking the right questions, you can ensure that you find a venue that aligns with your budget and avoid any unexpected surprises down the line. Remember, transparency is key to a successful and stress-free wedding planning experience.
4.   Amenities and Services
When it comes to choosing the right wedding venue, amenities and services play a crucial role in ensuring your special day runs smoothly. It's important to know what a venue offers and what additional costs may be involved.
Firstly, consider the basics, such as seating, tables, and linens. Does the venue provide these, or will you need to rent them separately? Next, think about the lighting and sound equipment. A good sound system and adequate lighting can make a significant difference in the atmosphere of your event.
Don't forget to ask about setup and cleanup services. Some venues include these in the rental fee, while others may charge extra. It's also worth inquiring about any restrictions the venue may have, such as noise limitations or decoration guidelines.
Furthermore, ask the venue manager about the availability of a bridal suite or preparation area for the wedding party. This can be a valuable space for getting ready and storing personal items during the event.
Lastly, if you're planning to have beautiful wedding flower arrangements, ask if the venue has any specific rules or preferred vendors for floral decor. Some venues may have partnerships with local florists, while others may allow you to bring in your own arrangements.
In conclusion, it's essential to ask the right questions and fully understand what is included in the rental fee before making a decision. This will help you avoid any unexpected costs and ensure that your wedding day is everything you've dreamed of.
5.   Capacity and Layout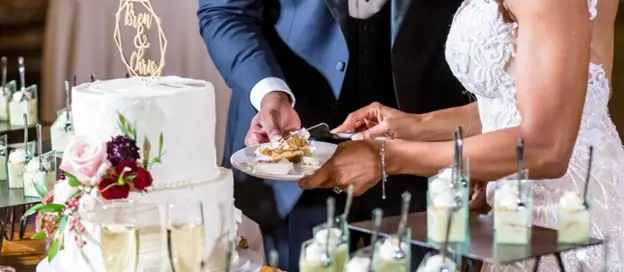 Selecting a wedding venue that perfectly accommodates your guest list is crucial in ensuring everyone's comfort and enjoyment. A crowded space can make your celebration feel cramped and disorganized, while a venue too large can make your event feel sparse and less intimate. It's essential to have an approximate headcount before venue hunting to ensure the space can comfortably fit your guests, with room to spare for a dance floor and other activities.
But the importance of a venue goes beyond just its size; the layout plays a significant role in creating the desired atmosphere and flow for your celebration. Consider how the space can be utilized for different aspects of your wedding, such as the ceremony, reception, and dance floor. A well-thought-out layout ensures a seamless transition between different parts of your celebration, creating a cohesive and enjoyable experience for you and your guests. Look for venues that offer flexibility in terms of layout and can be adjusted to suit your vision. In the end, the right venue is not just about fitting everyone; it's about creating a harmonious flow that enhances the beauty and joy of your special day.
Conclusion
In conclusion, finding the right wedding venue is a multifaceted decision that requires careful consideration of several essential factors. From setting a budget and finding a location that is convenient for you and your guests to ensure the venue can accommodate your guest list and aligns with your desired aesthetic and theme. Additionally, don't forget the significance of wedding flower arrangements, which play a vital role in enhancing the overall ambiance and aesthetic of the venue. Coordinating the flowers with the venue's color palette and style can truly elevate the space and contribute to the magical atmosphere you've always dreamed of for your special day.
We encourage you to trust your instincts and take your time in making this important decision. After all, your wedding venue sets the stage for your entire celebration, so it's crucial to choose a place that feels right for you and your partner. Reflect on your vision for the day, consider the factors mentioned above, and don't be afraid to ask questions or seek advice from friends, family, or a wedding planner. Ultimately, the right venue will not only meet your requirements but also resonate with you on a personal level, ensuring that your wedding day is as perfect and memorable as you've always imagined.